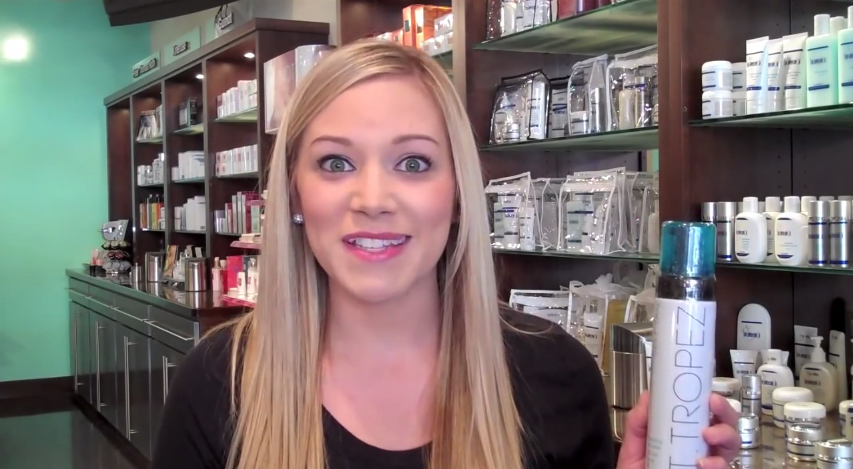 In our last post we told you how Ultraviolet radiation from both the sun and tanning beds causes premature skin aging and increases your chance for skin cancer, and we gave you some tips for a natural, healthy tan. Now, our resident Self Tanning Expert, Spa Coordinator, and Makeup Artist Jen shares her favorite sunless tanning products!
St. Tropez Self Tan Bronzing Mousse $32
"Its lightweight, velvety texture is easy to apply with an application mitt.It smells nice while providing a chocolate brown tan that looks natural and lasts for days. I use this a few times a week. This is my all time favorite!"
Video Tutorial: http://youtu.be/KN3QJHvro-A
---
St. Tropez Self Tan Bronzing Lotion $32
"This lightweight lotion is especially nice for someone whose skin is dry. Again, easy to apply with the application mitt for a natural looking tan that lasts for days."
Video Tutorial: http://youtu.be/tsvQ7HunsAU
---
St. Tropez Self Tan Bronzing Spray $35
"The spray applicator is perfect for back application or a quick spray if you're in a hurry. It sprays upside down so it's easy to work with."
---
Tan Towel $24-$27
"Easy application in a towlette form with a nice citrus scent.Available in 2 different sizes: full body and half body, depending on your usage."
---
SuperGoop! SPF 20 Gradual Self-Tanning Mousse $38
"This produces a gradual tan and is nice for someone who wants to prolong their tan maybe while on vacation with the added benefit of SPF 20."
---
Guinot Lait Hydrabronze $26
"A gradual self-tanning product with a nice fresh scent. This product appears white but will result in a darker complexion when used a few times a week. Plus it is very moisturizing!"
---
Purchase these products and more in our Self Tanners category.