Is the skin around your eye giving you trouble? Not sure which eye care product is right for you? Start your search by learning about these eye care products - available here in our online store and in all 7 of our Skin Dimensions Day Spa locations.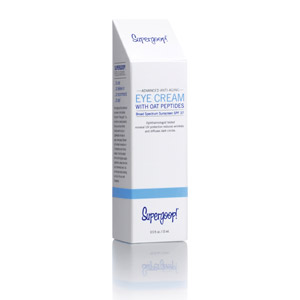 Supergoop Advanced Anti-Aging Eye Cream with Oat Peptides (SPF 37) - Supergoop's vision to include sun protection in all of their products (and making products with sun protection that you'll actually want to wear) extends to a category that doesn't usually include SPF - eye cream! The skin around your eyes is typically 2-3x thinner than the rest of your face - making that area especially susceptible to premature aging and sun damage.
This sunscreen-eyecare duo includes ingredients to firm, protect and hydrate the delicate skin around your eyes (Oat Peptide, Cogon Grass, Squalane).
Want to give your eyes an extra special treat? Keep this eye cream in your refrigerator before you apply - the cooled temperature of the metal applicator will help alleviate puffiness (and feel super amazing!)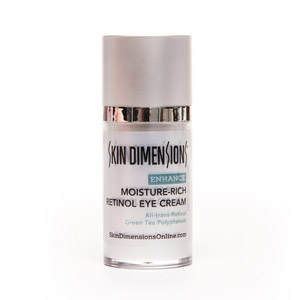 Skin Dimensions Moisture-Rich Retinol Eye Cream - would it be a blog post about skincare products for the eye if we didn't mention our (customer favorite) Moisture-rich Retinol Eye Cream? One of the most effective skincare treatments for dark circles and puffiness, retinol is an excellent ingredient to include in your eye-care regimen. Along with retinol, this eye cream is formulated with green tea extract, hyaluronic acid and vitamin K to gently infuse the eye area with rich hydration, also stimulating microcirculation.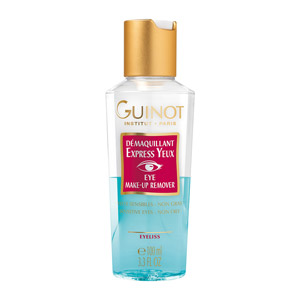 Guinot Demaquilliant Express Yeux (Eye Makeup Remover) - an eye makeup remover that you'll actually enjoy using? You'll love how the skin around your eyes feels after using this non-irritating eye makeup remover from Guinot. Suitable for contact lens wearers and sensitive eyes, this eye makeup remover includes gentle and soothing ingredients like cornflower extract and allantonin.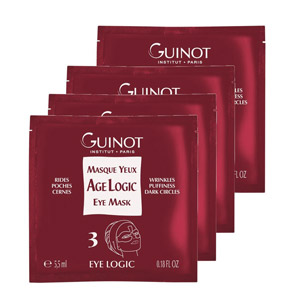 Guinot Masque Yeux Age Logic Eye Mask - though not intentionally designed to look like superhero masks, this revolutionary eye mask is formulated with some heroic attributes including:


ATP - stores essential energy for younger looking skin
Actinergie - a complex that increases oxygenation in the skin
Dynalift - a complex that firms the skin
56 Active Ingredients - supplies the elements required for healthy regeneration of the skin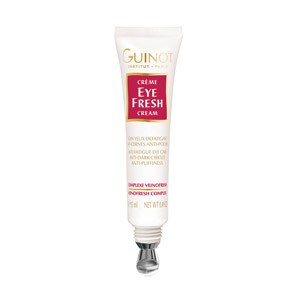 Guinot Creme Eye Fresh - anti-fatigue eye care at its best - brightens, decongests and refreshes the eye area with a moisturizing formulation of ingredients that also helps to combat dark circles. Your eyes will love the metal applicator - especially if you're battling puffy eyes. Apply and enjoy morning and night before applying your facial moisturizer - your skin will thank you!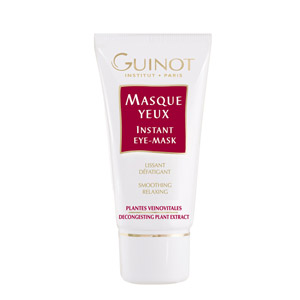 Guinot Masque Yeux (Instant Eye Mask) - frustrated with puffy, inflamed eyes? This eye mask calms and refreshes your eye area with decongesting plant extracts to soothe and repair skin while also detoxifying skin for a brighter appearance. Suitable for all skin types - because everyone deserves to experience this amazing eye mask!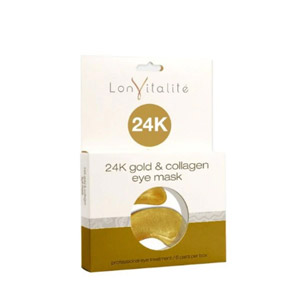 Lonvitalite 24K Gold & Collagen Eye Masks - gild the delicate skin around your eyes with these decadent and delightful eye masks. Designed to boost moisture absorption up to 10 times more than regular eye masks, these masks are formulated with nutrient-rich ingredients (including 24K Gold) to accelerate cellular processes to boost skin's volume in the treatment area. To optimize your results, use 1 mask duo every day for 3 days, and then once per week to maintain your fabulous results.

Questions? Stop by any Skin Dimensions Day Spa location or give us a call at877.883.7363 and let our team help you pick something to meet your needs (and wants)!
Not sure if these are right for you? Browse our entire collection of eye care products.