While we will never stop recommending sunscreen, hats can also be useful in protecting the head, face, neck, and ears from the sun. Keeping these areas covered by the shade of a hat is one way to ensure the sun protection doesn't end when the sunscreen fades (at which point, you should always add more). For well-ventilated, comfortable hats that block the sun, we look to Wallaroo.
What's so special about Wallaroo Hat Company? They've had over 15 years of experience sourcing materials and designing hats that are fun to wear and protective against the sun's damaging rays.
Wallaroo for Sun Protection
Hats with a UPF (Ultraviolet Protection Factor) rating of 50+ are made of fabrics that have been tested by the Australian Radiation Protection Agency. They've passed inspection and have been proven to block 97.5% of the sun's ultraviolet rays.

UPF 50+ is the best score, but even Wallaroo hats with a UPF of 30 or above and a three-inch brim have earned the seal of recommendation from the Skin Cancer Foundation.
Wallaroo's hats provide protection with no added chemicals! Their high standard of sun protection comes solely from high quality fabrics and specific weaving techniques.
Wallaroo for Fashion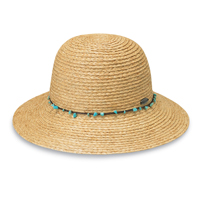 Each year, the company comes out with new styles and continues their most popular ones. Their hats for women, men and kids come in a variety of colors and fabrics, ranging in style from stylish to athletic to playfully youthful.

The complete Wallaroo collection comes in 42 styles, making it possible for everyone to find what they're looking for. Fashion hats, like the women's Blair or men's Byron are neutrally colored and subtly show off your obvious eye for summer style. Hats like the Men's Explorer, though, signals intentional adventure is ahead. The kids won't be left out either. With hats like the Platypus, a day in the sun will end with no head burns. Plus, the little ones will look adorable in the pictures you take of memorable moments in the sun!