Whether you're searching for gifts to provide a pampering touch, or something to help bring out someone's inner oh-so-luxe glow – we have you covered with these pretty little gift ideas. Shop online or stop by your nearest Skin Dimensions Day Spa location and let us help you with your holiday shopping list (and don't forget to pick up something special for yourself!)
NEW! Skin Dimensions® Limited Edition Winter Night Cream
Already love our Night Cream? We have winterized your favorite moisturizer to help your skin survive the cold and dry season. The extra emollient formula is only available for a limited time – so don't miss out!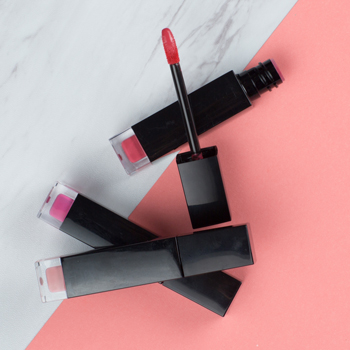 NEW COLORS! Simply Beautiful Lip Stain
Long lasting color that protects the lips and stays in place for hours This next generation lip color glides on lips, providing full coverage without feeling heavy, sticky or tacky.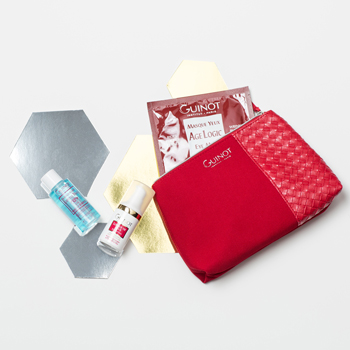 All the essentials to keep your delicate eye area looking youthful and rested. Longue Vie Yeux Eye Lifting Cream minimizes fine lines and wrinkles while softening the appearance of crows feet. The Age Logic Eye Mask smooths, contours and depuffs the eye area in 8 minutes.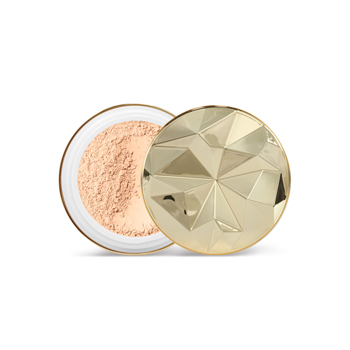 bareMinerals® Original Foundation Deluxe Collector's Edition
Give your skin the feeling of luxury with this deluxe award-winning ORIGINAL Foundation. It's all the coverage you want with a no-makeup look and feel.
Available colors (while they last!): Fair, Fairly Light, Light, Medium, Medium Beige, and Medium Tan.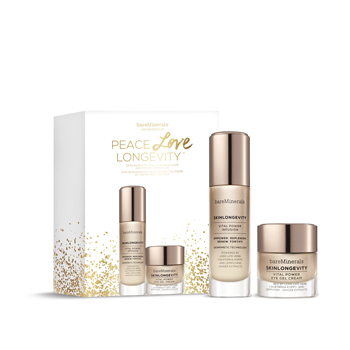 bareMinerals® Peace.Love.Longevity – Skinlongevity® Serum & Eye Cream Duo
This Skinlongevity® duo will reawaken and help maintain your skin's radiance and resilience while helping reduce the appearance of fine lines and wrinkles.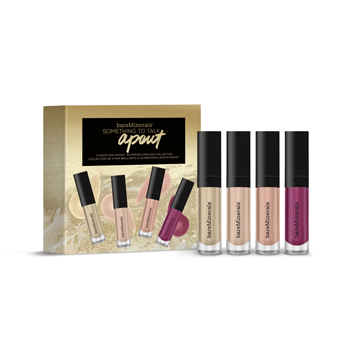 bareMinerals® Something to Talk Apout
Apple rich, plumping lipfloss on the go with these travel-sized Moxies. From shimmering champagne to beautiful deep blackberry, this high-shine collection has a shade for every holiday occasion.
Colors Include: Golden Glaze, Tantalizer, Dare Devil, NEW Attention Seeker.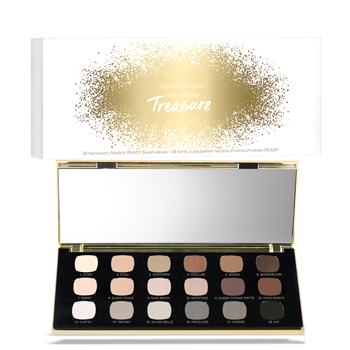 bareMinerals® The Hidden Treasure – Limited Edition Holiday Shadow Palette
Eighteen coveted eyeshadows, one luxurious palette. These sophisticated neutral shades of bareMinerals READY® shadow include a range of soft matte to rich metallic finishes with seamless blendability and pigment-packed color that lasts up to 12 hours.
Colors include: bareMinerals READY® eyeshades in Ivory, Ecru, Santorini, Stellar, Wheat, Boardroom, Merry, Sugar Cookie, Gemstone, Queen Tiffany, Good Spirits, Curtsy, Payday, NEW Silver Bells, Cheers, VIP.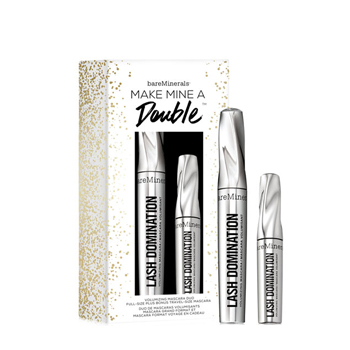 bareMinerals® Make Mine A Double™
Get double the drama with this Lash Domination® Volumizing Mascara and Lash Domination Volumizing Mascara Petite Precision™ Brush duo. With 10-in-1 benefits, they deliver lush, large and intensely black results from every festive angle.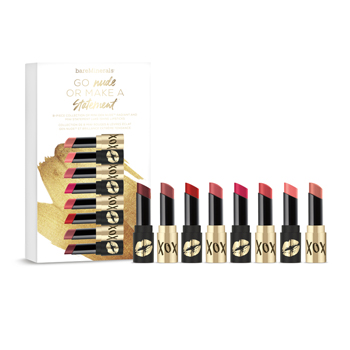 bareMinerals® Go Nude or Make a Statement – Statement Color Lipsticks
Whether you're in the mood to Go Nude or Make a Statement, this 8-piece lip kit has you covered. The collection features four GEN NUDE® Radiant Lipstick colors and four Statement Luxe-Shine Lipstick colors so your lips are ready for any holiday occasion.
Colors include: Kitty, Tease, XOX, Alpha, Love, SRSLY Red, Mantra, NSFW.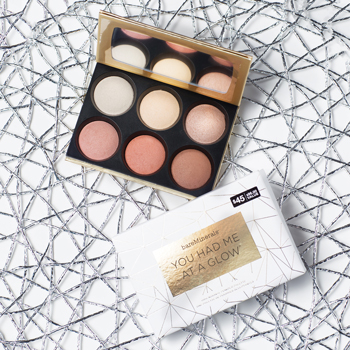 bareMinerals® You Had Me At A Glow – Sculpting & Highlighting Face Palette
Your secret to a natural-looking, youthful radiance throughout the holidays. This curated collection of shades that range from shimmering champagnes to rich clays, letting your natural light shine through as you highlight, sculpt and contour for all your holiday events.
Colors include Dark to Deep, Northern Light, Aurora, Supernova, Galaxy and Celestial.

Questions? Tips? Advice? We're Here to Help!

Whether you purchase a pretty little gift in one of our day spas, or online, our highly-trained staff is available to answer any questions you have – from how to use the products to even makeup ideas for upcoming events. If a question arises, stop by any of our day spa locations or give us a call (877.883.7363 for our online store or call your nearest day spa location).

View Additional Skin Dimensions Products
View Additional Simply Beautiful Makeup Products
View Additional bareMinerals Products
View Additional Guinot Products