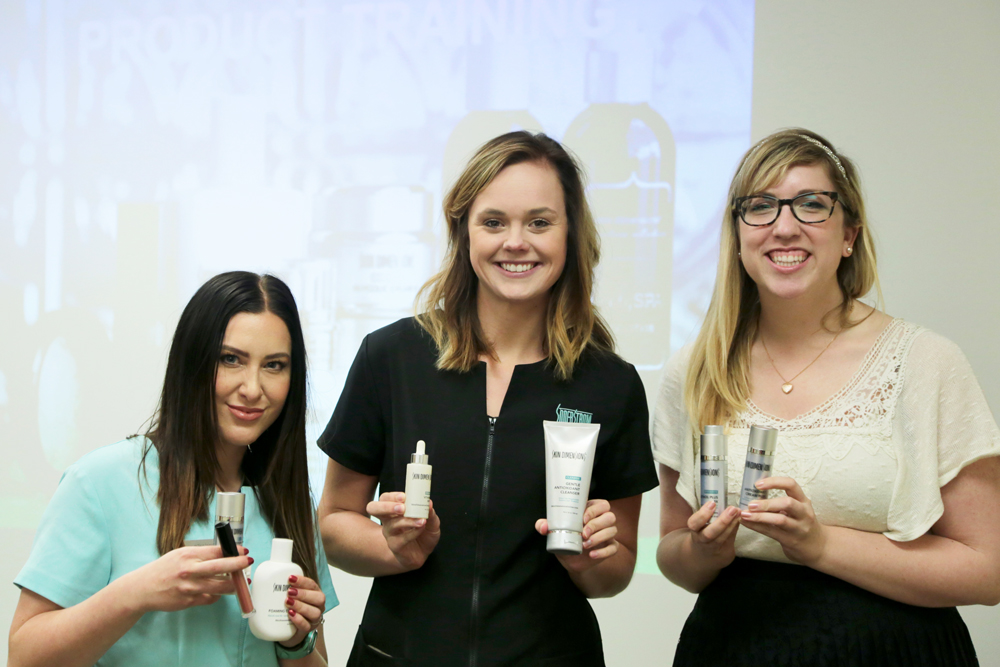 Earlier this summer, we held Product Training on Skin Dimensions, our signature line of skin care, for three of our recent hires. Led by our Director of Sales, Kelly, the session explored the entire Skin Dimensions Skin Care line from cleansers to moisturizers and everything in between. After testing and learning about each of our signature skin care products, each student chose their favorite products.
Lara - Cosmetic Nurse:
Skin Dimensions Gly/Sal Foaming Cleanser

"This is already my favorite face wash. I love it because it unclogs my pores and helps to remove dead skin cells."




Skin Dimensions Vitamin C Antioxidant Cleansing Pads

"I absolutely love is the Vitamin C pads, they're great because I like to think of them as my multipurpose pads, 3-in-1, cleanse, tone and brighten all in one!"




Skin Dimensions Moisture-Rich Retinol Eye Cream

"This eye cream helps to reduce the appearance of dark circles, fine lines and puffiness. It is also packed with antioxidants like Green Tea polyphenols, which calm and soothe skin while quenching free radicals."




Skin Dimensions Simply Beautiful Liquid Lipstick in Mink Pink

"Our Skin Dimensions Simply Beautiful Liquid Lipstick (from our makeup line) is simply the bomb-dot-com. It has a natural rosy pigment that glides on smoothly and easily. It feels like velvet!"







Skylar, Peoria Spa Coordinator:



Skin Dimensions Vitamin C Serum

"This product is my new favorite! Not only because you can use it in the morning or at night. But It gives my face a brightening glow and silky smooth feeling, that smells amazing!"







Skin Dimensions Gentle Antioxidant Cleanser

"The green tea and natural botanicals in this cleanser leave your skin feeling refreshed and hydrated. It leaves my skin with a deep clean feeling, like just getting a facial."









Laura, Digital Marketing Strategist:
| | | |
| --- | --- | --- |
| | Skin Dimensions Antioxidant Cream Plus"This was my absolute favorite! It packs a major antioxidant punch with green tea polyphenols, resveratrol (found in red grapes and wines) and caffeine. It calmed my sensitive skin and left it feeling hydrated, fresh and smooth." | |
| | Skin Dimensions Retinol Plus "I was really impressed with the science behind this product! This is our #1 product for anti-aging. Retinol helps to build collagen lost over time as we age. The formula's high concentrations of green tea make it easy to tolerate and its hyaluronic acid provides hydration. It also contains caffeine – which I learned is a vasoconstrictor. This means that it constricts blood vessels, which can reduce puffiness and dark circles. It's really amazing what this product can accomplish!" | |
| | | |