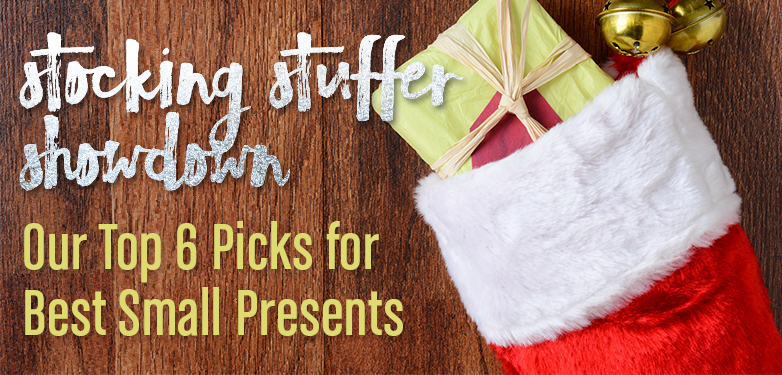 Are stocking stuffers your favorite part of gift giving, or the thing that always showcases your incredible ability to procrastinate? Either way, we've done the hard work for you so you can skip the last minute chaos and get straight to the giving. These six stocking-sized goodies are useful, creative, and sure to bring a smile to your loved ones' faces.
1. Simply Beautiful Luxury Mascara
This one doesn't take up much sacred stocking space yet works wonders on the lashes. A hypoallergenic and paraben-free formula, our Simply Beautiful mascara curls, volumizes, lengthens, and sets lashes in place for all-day wear. Luxurious, dramatic lashes are a gift that never goes out of style.
2. Creative Tea Infusers

Pick out a tea infuser with personality! Who needs boring old mesh strainers when you can brew tea in sinking ships, cute robots, or Russian dolls? These infusers showcase designs from kooky to elegant and everything in between.
3. Vitamin C Antioxidant Cleansing Pads

We've said it before and we'll say it again: vitamin C should be in everyone's skin care routine. These cleanings pads are versatile- perfect for loved ones young and old, male and female. They're handy as makeup removers, travel cleansers, or an everyday dose of skin-firming antioxidants.
4. Ten Thousand Villages Natural Hemp Washcloth
Ten Thousand Villages creates opportunities for artisans in developing countries by bringing their products and stories to our markets through sustainable, fair-trade relationships. Bangladeshi artisans harvest, spin, and knit natural hemp fiber- known for its strength and renewability- to create these beautiful washcloths.
Green tea, lemongrass, and ginger scents accompany this naturally hydrating formula that works to unveil hydrated, baby soft skin. In the midst of dry skin season, a calming and aromatic body scrub is just what the doctor ordered.
6. Christopher Elbow Chocolates
A chocolate experience you have to see to believe. This Kansas City based artisan chocolatier creates beautifully elaborate and chocolates with inventive colors and designs. The 16-piece signature collection is definitely stocking sized- and who wouldn't want to open a chocolate set that included flavors like lavender caramel, spiced orange, and whiskey pecan, to name a few.

To increase your gift-giving potential, we created a Best of Skin Dimensions Collection. For a limited-time, you can purchase a kit that includes five skincare items, including numbers 1, 3, and 5 from this list. Discover the beauty essentials that have proven themselves to be favorites among Skin Dimensions patrons and staff, and soon you or your loved one!