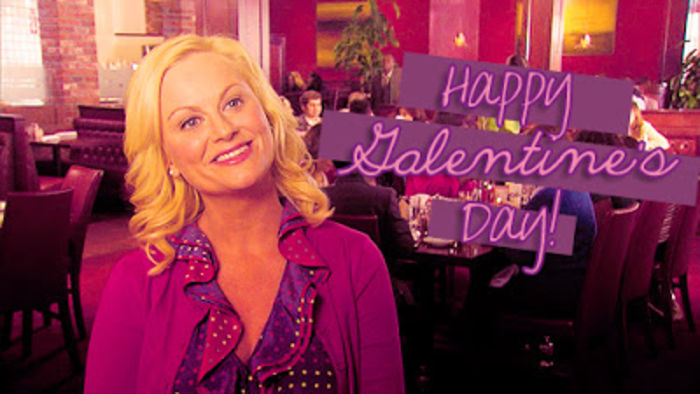 Sure, Valentine's Day is traditionally for couples, but don't let that limit your fun this year! Celebrate all the awesome love in your life-- from friends, to family, to your lovable self. By being grateful for the love that surrounds you, you'll forget the romantic origins of the holiday and have your most enriching Valentine's Day yet.
Love your Friends

One of Leslie Knope's greatest ideas in Parks and Recreation was Galentine's Day: ladies celebrating ladies. If your girlfriends have plans with their beaus on the 14th, host a Galentine's Day celebration on the 13th.Or get together with your fellow single ladies and make the 14th a night to remember. How, you ask?
Host a romantic dinner party complete with your best red wine and candlelight. Don't hesitate to go all out with the glittery, girly décor, too!
Have some girls over for a bake-a-thon. These treats will get the ideas flowing.
Organize a secret crush gift game, secret Santa style! Being single should never mean you have to miss out on chocolates and roses.
Love your Family
What better time of the year to show your appreciation for the people who are always there for you? Spend some time being considerate and getting crafty this Valentine's day for the ones who love you all year 'round.
Combine your adult edge with your childhood roots by crafting the perfect card for a family member who wouldn't expect it.
Have nieces and nephews? Be the cool aunt and offer to babysit. Put together an ice cream sundae bar that you'll enjoy just as much as them. You definitely won't be feeling unloved afterwards!
Treat your mom to a day at the spa next to one of the people she loves most in the world—you! Our Mother & Daughter Spa Package is a great way to show her how grateful you are for all her love.
Love Yourself
This may be the hardest one. But reminding yourself how amazing you are is essential. Let singledom be an excuse to treat yourself like never before this Valentine's Day.
Put on your comfiest PJs and have an eye-candy marathon with all your celeb crush's best movies. This could take all day—real candy will be necessary, too.
Donate time to a local community in need: serve food at a soup kitchen, donate to a food pantry, or cuddle with animals at a shelter. Sometimes giving is the best way to feel good.
Dress to impress. Whether you're going to work, running to the grocery, or meeting a friend at a bar, wear something you love. You don't need an excuse- or a man- to look good. Put on your favorite heels and LBD and enjoy.
The thing about being generous with the love you share is that you end up feeling it tenfold in return. Get ready to feel the love!