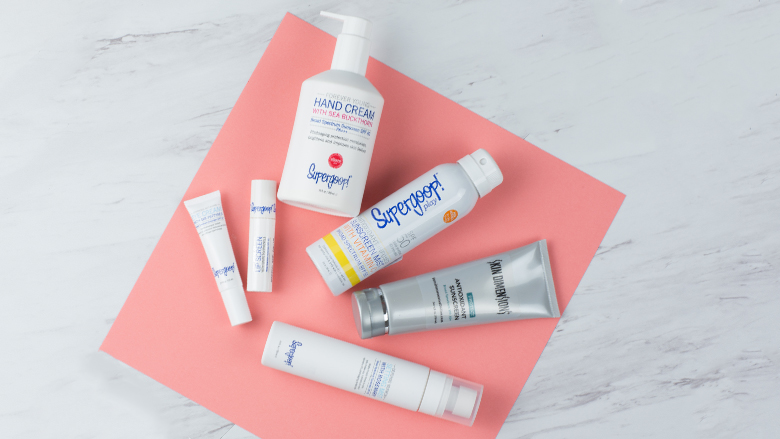 Written by Kelly, our Director of Sales and Sunscreen Advocate Extraordinaire

We know the dangers of sun and skin cancer but as I'm creeping up on year 44 I'm even more fearful of aging. Can you believe the sun is responsible for up to 90% of visible aging?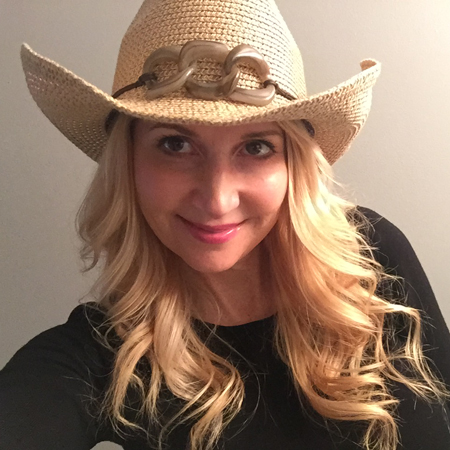 So yes, I'm the one you see out in the yard and at the pool with that wide brim hat that my son wants to run away from. This year I just purchased one of our new sunhats from Wallaroo and I have to admit it looks actually really cute!

Sunscreen needs to be re-applied every 2 hours and every 90min if in water. We all think of this while we are playing in the sun but it should be a part of our routine everywhere every day. If you hang with me I have a solution no matter where we go.
A ride in the car with me…
Supergoop! Forever Young Hand Cream SPF 40
Have you ever seen that truck driver with his left arm significantly darker than his right? We don't think about how much our hands are exposed while driving. The 10oz size fits perfectly into my cup holder and is the perfect reminder to apply when I get into my car or of course when you get in my car. I always say you can tell someone's age by their hands so this is the perfect way to protect your hands from sunspots and accelerated aging.
Playing with the kids…
Supergoop! Antioxidant-Infused Sunscreen Mist With Vitamin C SPF 50
This is a must have if you have kids. As much as I protect myself, getting my son to put sunscreen on is more exhausting than herding cats. I love this product because I can practically spray him as he runs past me. I yell 'stop' and then 'spin' as I dowse him with the easy-to-use spray. It can be applied to wet skin so I can actually lurk by the edge of the pool and reapply for that moment when he hops out of the pool. For me personally, I love the citrus-y smell and how luminous it makes my skin look.
My day at the office….
Supergoop! Defense Refresh Setting Mist SPF 50
What we don't think about often enough is protecting ourselves from fluorescent lighting (as much as we do from the sun's rays). I keep a bottle of Supergoop's Defense Refresh Setting Mist at my desk and reply every two hours. This is a perfect way to reapply my sunscreen regularly without ruining my makeup. Its matte finish helps to give me that matte finish all day long. I also love this product for a day date or picnic when you need to refresh your UV protection but don't want to lose your makeup.
An easy morning with me….
Skin Dimensions Antioxidant Sunscreen SPF 50+
Who doesn't love 5 steps in one? I apply my Antioxidant Sunscreen SPF 50+ and instantly I have my moisturizer, environmental protection, sun defense, anti-aging benefits and makeup primer. I just throw on a little makeup and I'm out the door! This product is packed with antioxidants to protect me against free radicals that cause aging as well as broad spectrum coverage to prevent future damage from the sun. The base is so moisturizing that I don't need an additional moisturizer. I love the way my makeup goes on over the top it!
Two things I won't let you forget…
So this is a lesson I learned long ago - I thought I was being good while spending the day at the pool by applying sunscreen (like I was supposed to) but by the next morning, I had blistered lips and sunburn on the side of my eyes where my sunglasses didn't cover. The problem? I didn't apply any SPF to my lips or my eyes! These products provide the perfect solutions.
For lips
Supergoop! Shine on Lip Screen SPF 50
When you want that deep gloss finish for that perfect pout this is the option I use. I personally love using SB lip tints to give me all day color and using this as my top coat protective finish throughout the day.
Supergoop! Fusion Lip Balms SPF 30+
I love this option for a day of outdoor play. It helps keep my lips hydrated yet protected! I personally like the AcaiFusion flavor but the MintFusion is a great option for the man in your life.
For eyes
Advanced Anti-Aging Eye Cream SPF37
I use this as my everyday morning eye cream. Not only do I get UV protection for the area where I see the most aging but it also hydrates, firms and reduces the appearance of lines and wrinkles. The cool tip applicator feels really soothing and reduces puffiness. It also contains light reflecting mica minerals to brighten and diffuse dark circles.
Hope you can use some of my tips to make this summer simple fun and ageless!