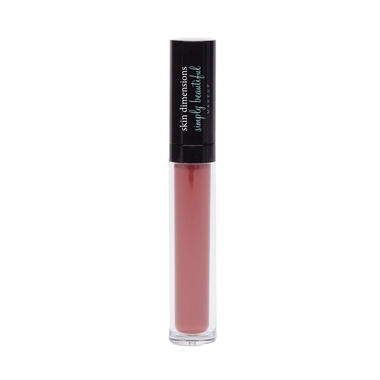 What better way to celebrate National Lipstick Day than with a bold, beautiful lip? Last week our administrative office celebrated National Lipstick Day in style, wearing an ultra-versatile lip color: our Simply Beautiful Liquid Lipstick in Uncorked. Formulated with emollient, healing and hydrating ingredients like Japanese Sumac and Myrrh this lipstick adds a fun pop of lasting color while also making lips feel velvety smooth.
The rich, red hue with cool undertones, proved its versatility, flattering each skin tone and makeup style; winning over even the most tentative of our Uncorked volunteers with unstoppable smiles and overflowing compliments of each other and the color throughout the day. We think we'll see more of this amazing color again soon in the office!
Thank you to our Skin Dimensions Day Spa team in Peoria for helping us pick out this amazing lipstick color! Stop by your nearest Skin Dimensions Day Spa location to find the perfect color for you, or choose from our selection of products online.





Kelly – Director of Sales

I love wearing all black and making the pop of my outfit a bold red lip. It's all the fashion statement you need.

Red lips make me feel confident and powerful!






Deborah - Scheduler

I love this - it's beautiful!











Rhonda – Director of Human Resources

As a redhead I was wary of finding a lipstick color that would work on everyone and I will admit it is a much brighter color than I would normally wear but after only a few minutes I got multiple compliments. I really liked the texture and it definitely has staying power. Going forward I will add more vibrant colors to my lipstick choices.






Nidhi – Software Programmer

Absolutely amazing. I love the texture of the lip color. It's darker than the colors I usually wear, but I absolutely adore this color.






Kelsey – Scheduler

I love to wear a bright lip color on the weekends and this one was such a beautiful color! The texture was great and did not dry my lips out at all. A bold lip like this makes me feel unstoppable and powerful. :)






Tricia – Graphic Designer

Super fun lip color! I love how it looks different but gorgeous on everyone. It's the perfect lipstick for when you're trying to make a statement.






Katie – Administrative Assistant, Pathology

I like having fun with my lip color. This color was young and fun! It is a great look for daytime or a night out!






Tammy – Administrative Assistant, Accounts Receivable

I wasn't sure if it would look good on me because it was a dark color. But, I was surprised when I tried it on and the color looked good on me.

It made me feel really good about myself!






Heather – Staff Accountant

The lipstick color was very pretty and it definitely has staying power. It will last all day long. It definitely made my lips pop.






Cindy – Director of Surgical Services

Love the color and name! It made me feel like I should have a glass of red wine with these lips! The color stays on very well too! ;)






Angie – HR/Payroll Specialist

Goodbye clear lip balm… hello color! This bright and playful lip color definitely changed my look.

I feel ready for Friday night but it's not even noon yet. Happy Lipstick Day!






Shirley – Pathology Assistant

This color made me smile even more!

Two words to describe this color: Get. Noticed.






Thea – Purchasing and Inventory

I liked a change in color from my normal selection – it gave some pop to my lips and also brought out the blue in my eyes.

The formula gives the lips a soft smooth feel with color that will last hours. I like to put our new Peptide Lip Serum over the top for a little extra shine.






Laura – Digital Marketing Strategist

I never would have picked this color on my own – but I enjoyed it and wore it proudly the rest of the day. It also made my lips feel so soft!

The color really was flattering on everyone - I liked how it looked unique on each person who wore it!






Cindy – Director of Surgical Services






Amber – Staff Accountant






Jessica – Scheduler